Image Source – https://www.diynetwork.com/shows/man-caves/man-caves-pool-tables-and-bars-pictures
I always figured, that if I ever decided to have a man cave. The flooring would stay the same. Wasn't until recently, that I decided to research about cheap flooring options. Plus, would learn what are popular flooring ideas for man caves.
Here is what I've learned, hope it helps.
What Are Popular Flooring Ideas For Man Caves
Popular man cave flooring options are tile, multi color low pile carpet with heavy duty padding, and stained concrete with carpet. That being said, your choice is based on the type of man cave you have.
How To Measure For Flooring
You must, use your tape measure to come up with the room's length and width. Then times the length by the width to get the square foot. As an example if said room is 14×14 feet long, you will need enough material for 196 square feet. (14×14=196) Simple enough
Man Cave: Cheap Flooring Options
Man Cave Multi-Color Carpet Flooring
The reason low pile carpets are popular in man caves is cause it doesn't ruin sound, It only dampens. Not to mention that low pile also is easier to clean and stains aren't as big of a problem. Multi-color seem to go with everything, so no need to worry about matching the colors.
Low Pile Carpet – Means, the fibers are lower. ( Low Pile Carpet Vs High Pile Carpet )

Heavy Duty Padding – Is what keeps your carpet in excellent condition. It keeps the underside of your carpet from wearing out and absorbs the shock from your steps and furniture. If you decide to go with heavy padding another pro is that if you drop a glass bottle is unlikely to shatter.
Average Price – 12-ft by 12-ft would cost anywhere between $1.99 up to $6 per square ft. ( based on data collected online) Prices will fluctuate

---
Man Cave: Stained Concrete Flooring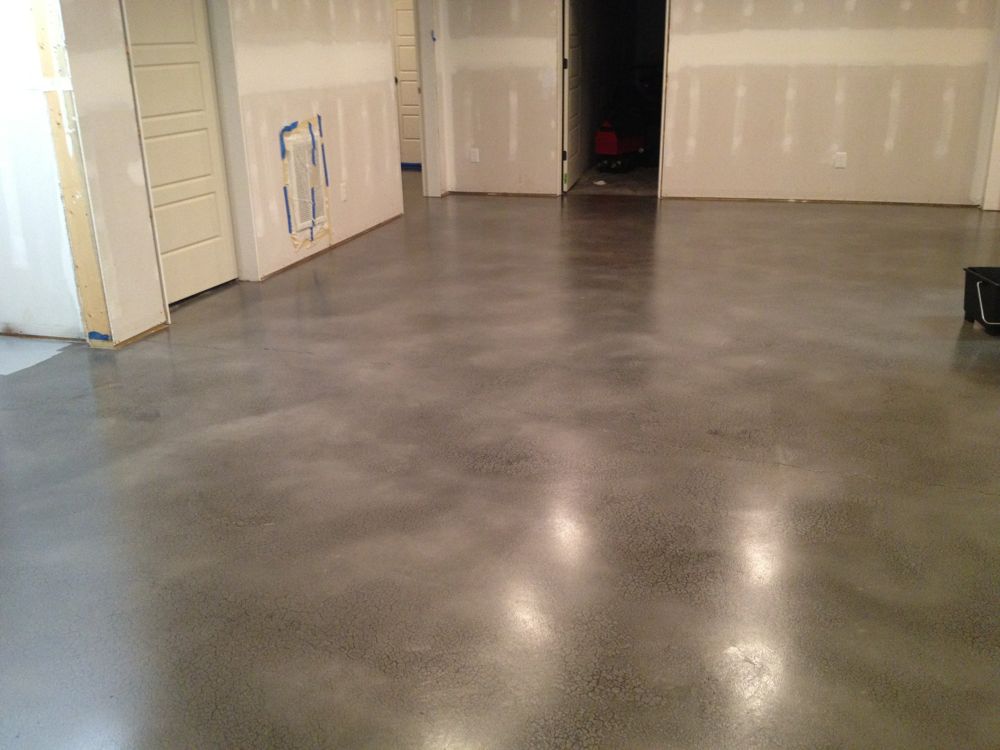 Source – https://www.decorativeconcreteofvirginia.com/stained-concrete
Stained concrete is most popular among men who want sports, and workshop themed man cave . Also, seen stained concrete combined with carpet on some pictures while researching. I personally think having both concrete and carpet all depends on the type of man cave you want.

The Pros of Stained Concrete
Its durable

Many design options

Friendly to the environment

Long lasting
The Cons of Stained Concrete
Coldness

Flat surface

Slipperiness
Average Price – $3 and $6 per square foot ( based on data collected online) Prices will fluctuate

---
Man Cave: Tile Flooring
Tile flooring is very popular among the home decor audience and . The reason is tiles have a variety of designs, finishes, sizes and shapes to work with. Unlike, the other flooring options.
Types of Tiles
Parking Tiles
Digital Glazed Tiles
Soluble Salt Nano Tiles
Double Loading/Charge Tiles
The Pros of Tiles
Resistant To Temperature & Chemicals

Affordable

Diverse

Environment Friendly
The Cons of Tiles
To Cold & To Warm Feet

Maintenance For Grout Lines

Some Are Easy To Crack
Average Price – $4 to $5 per square foot. ( based on data collected online) Prices will fluctuate

---
Conclusion
After researching, my choice would be low pile carpet. The reason being, is my ideal man cave would be inside a room and be themed around gaming. Anyways, if this article helped you do me solid and  share it on your social media..

Additional Helpful Resources
Man Cave Essentials – Read Full Article
Best Table Games, For The Man Cave – Read Full Article